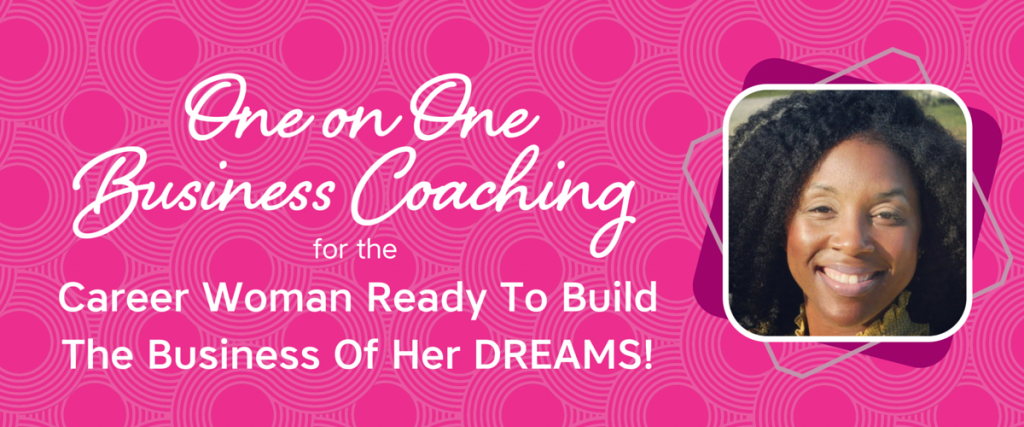 One-On-One Coaching For The Career Woman
Who Is Looking To Make The Move
From Corporate Office To Home Office
And

Build

The Business Of Her DREAMS!
Coaching With Angelica!
I am so excited to offer personalized, one-on-one coaching opportunities for career women who love their jobs, but want to use their body of work and skill set to start a business they love…(and spend more time with the people the love the most)!
I have spent over 10 years, as an educator (educating and working with women happens to be my sweet spot) and more time than that building businesses, in many different industries.

I have this gift to be able to take your body of work and skill set, then instantly "see" business ideas and show you how to make them profitable

FAST!

Entrepreneurs come to me, with their ideas and

they leave with million dollar plans!

It is my honor to serve as many women as possible

by helping YOU start and build the business of your DREAMS, right from your kitchen table!
I would love to talk to you about coaching if you are a Career Woman, who loves what she does and who:
Is looking to start a small business, but you're not sure how your body of work and expertise would translate into a small business

Has just started your small business, but you need more direction and clarification

Has a small business, but you are struggling with navigating the online world, getting ideal clients, and generating more income

Is wanting to grow your business, by finding your ideal clients, having audience find you irresistible and coming back for more

Has been in business for a while, but feels stalemate, lacks inspiration, and needs some direction at jump-starting things
My coaching services include:
Looking at your current body of work and career expertise to determine potential business services or products you could offer (or add to your business)

Analyzing your current work schedule to help you layout your "business hours" and determine the focus for your personal business-growing and income-generating activities (let's avoid busy work)

Reviewing your marketing plan and marketing budget (or help you create one)

Helping you determine if you need to outsource any of your business activities so you can focus on doing what you do BEST!

Identifying and attracting your ideal clients and how to get you in front of those, who will find you irresistible

Evaluate your social media channels and current strategies and help you develop a plan to increase your online presence

And MUCH MORE!
Our time together will look something like this:
Two 45-min Coaching Sessions

per month to implement the strategies and tasks discussed, get your questions answered and provide any additional support as needed.
Results-Driven Assignments/Tasks

clarified and defined before we close each session, so we're on the same page about which tasks you need to tackle, in order to see the most momentum in your business.
Full Session Recording

in a shared Google Drive folder, with lifetime access, to review anything we went over on our session.
Unlimited E-mail Support

during the course of our time together for questions along the way.
It's time to build that business you've always been dreaming about, once and for all!
This level of coaching is for women who are ready to:
✔️
Get clarity, focus, and a strategy to build their business online
✔️
Implement their strategy with diligence and hard work
✔️ Take initiative and

do whatever it takes to create success

(Zero excuses. Zero whining.)
✔️
Keep their faith and family their #1 priority
✔️
Build an audience of highly targeted fans who know, like, and trust you
✔️
Attract your ideal clients to your business
✔️
Invest time, energy, and finances into building the business of their dreams NOW!
This is

NOT

for women who:
❌ Need someone to hold their hand and babysit them
❌

Don't like hard work, accountability, or diligence
❌

Aren't financially ready to invest into themselves and their business
---
My private coaching very limited. I reserve these only for women who are

serious

about building and growing their business. To be fair to everyone, I am only able to have 3 Coaching Clients a month, so I can give you and your business the time and attention it deserves. I use the responses on your application to determine this. (So please be sure to answer honestly and openly.)
Are you ready? Let's get started!
3-Month Package
(Great for beginners!)
Investment $1,497
6-Month Package
(save $497)
Investment $2,497
12-Month Package
(save $991)
Investment $4,997
(Payment options available for all packages.)
If you need a custom-designed session that better suits your needs, please email me at clientcare@silkoversteel.com. We can design a package that's the right fit for you!