This is a Beloved Theme Review of one of the Restored 316 WordPress Themes. This theme was released in March 2019 by Lauren Gaige of Restored 316 Designs.
It is one of the newest Restored 316 themes and seems to have caught the attention of many bloggers, entrepreneurs, and coaches. Below you will find my complete Beloved Theme Review. I hope it helps you decided if the Beloved Theme is right for you!
Here are other posts in my Restored 316 WordPress Themes Series (including the Beloved Theme Review):
NEW in 2019! Beloved Theme Review: Restored 316 Themes (Showcase & Details)
Quick Links For Information In This Post
Beloved Theme Review: Restored 316 WordPress Themes
Dear Beloved, You are so much more than a blogger and entrepreneur. You are an agent of change who inspires others with your courage and creativity. You have big plans, and Restored 316 is here to help you figure out how to maximize your impact on the web. We hear you. We see you. And, since you asked…we created this theme just for YOU. We believe you have the stuff dreams are made of, and most important—you are loved.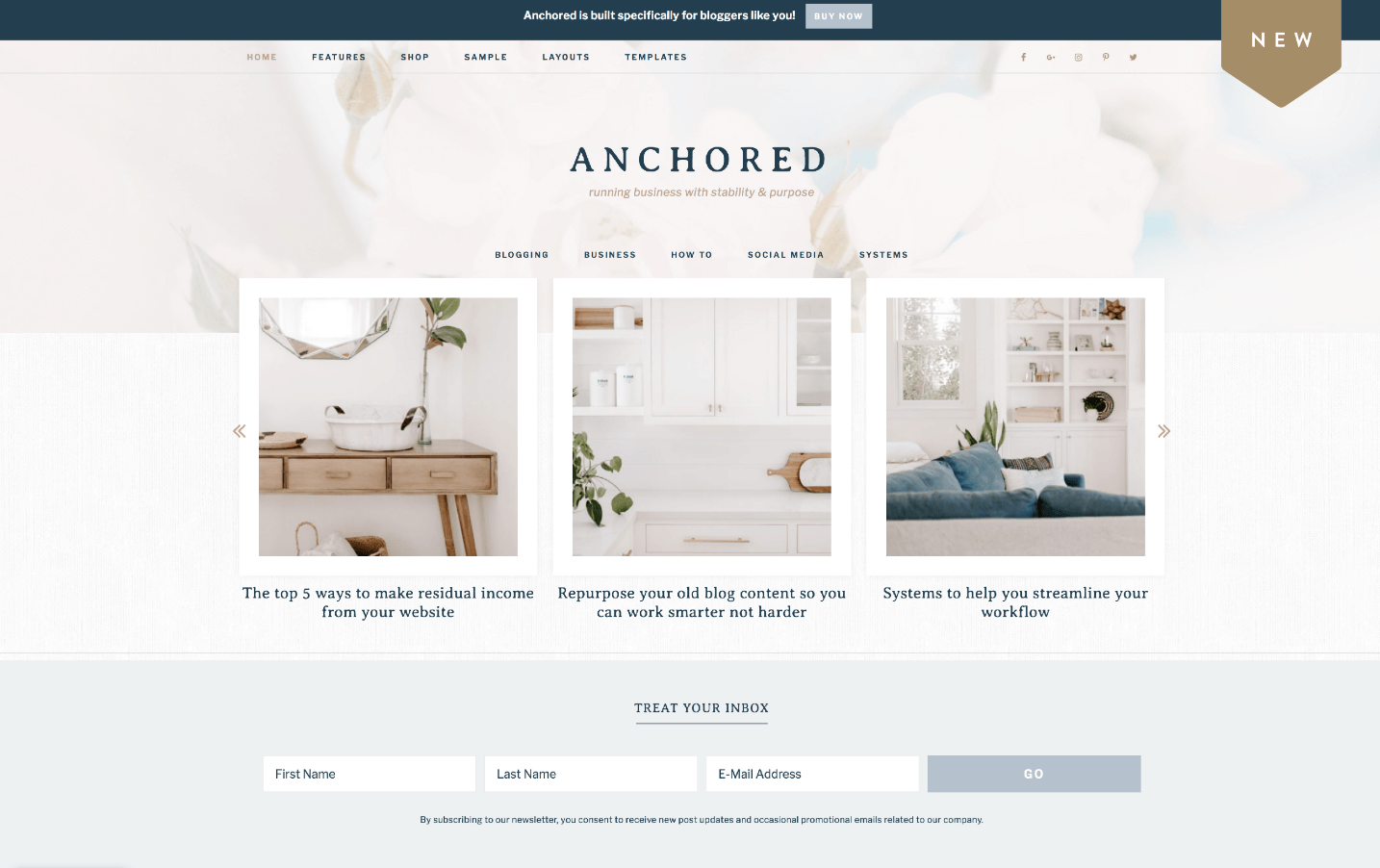 Before I show you the Beloved Theme Review, let me tell you how to get the most out of this Restored 316 Anchored Theme example:
Read each theme description and make note of the business industry + niche it's well-suited for.
Jot down those themes that seem like a good fit for your business and blog.
Browse through the Beloved Theme showcase of other women using that theme, so you can get design and customization inspiration!
Use the accompanying Restored 316 Buyer's Guide to compare the different features of each theme, so you'll know which one is the best fit your business, blog, and brand. (You can download the Restored 316 Buyer's Guide below.)
Download Your FREE Restored 316 Buyer's Guide
To complement this Beloved theme review and to help you decide if the Beloved Theme by Restored 316 Feminine WordPress Themes is best for your business, blog, and brand, I've created a buyer's guide just for you!
I remember when I fell in love with the Restored 316 Feminine WordPress Themes, but I couldn't decide, which theme I wanted and NEEDED for my business. (There are so many to choose from, all with great features and options!)
Now, I'm taking the guesswork out of selecting the perfect theme!
The Restored 316 Buyer's Guide will help you compare and contrast all Restored 316 themes. I want you to keep this handy and refer to as often as you need. This will help you decide which theme is perfect for you!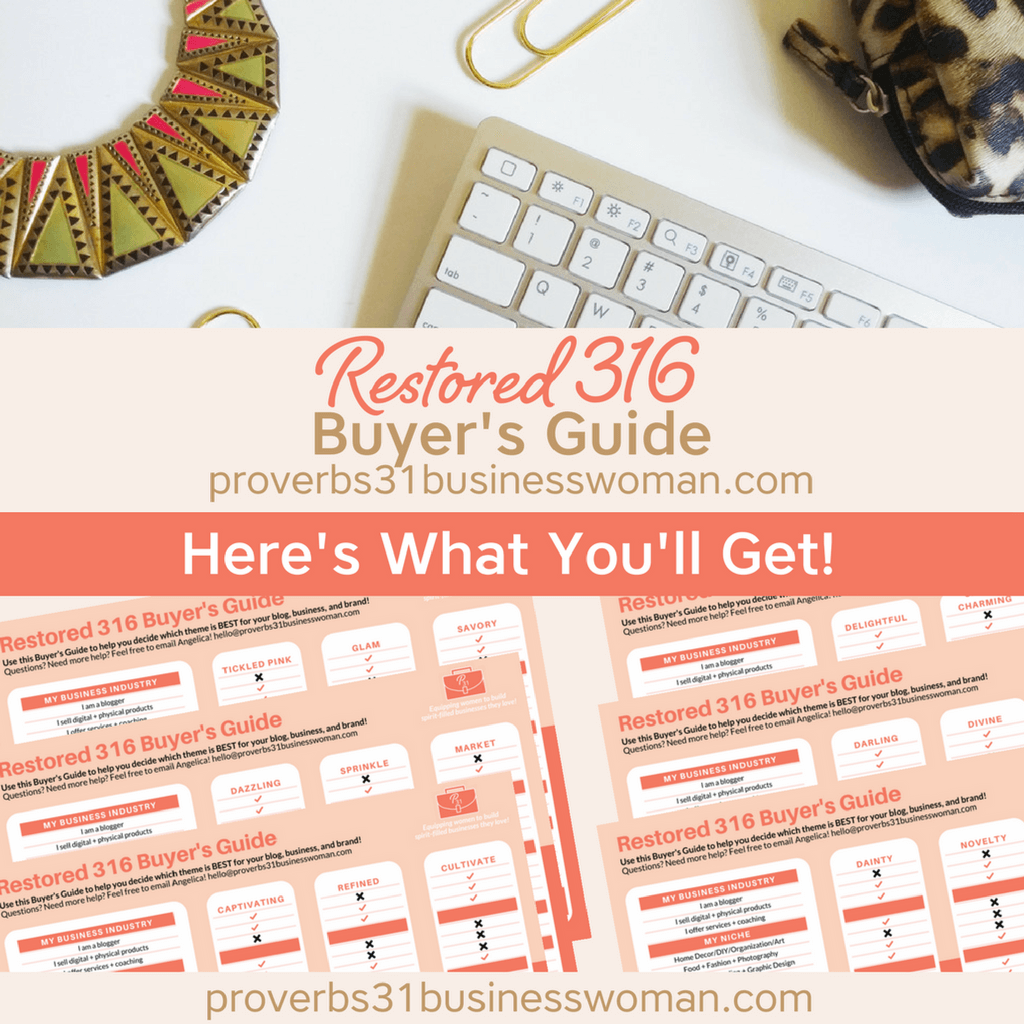 Download the Restored 316 Buyer's Guide. You'll get the buyer's guide, access to my Business Vault, plus advanced notice of all the exciting happenings around here!
View in your browser. Any device will do. It's a quick read-and-scan.
Keep it in at your fingertips! You're going to need it handy, as you read this post and decide if the Beloved Theme by Restored 316 Feminine WordPress Themes is perfect for you.
Grab Your Own Copy of


The Restored 316 Buyer's Guide
(Don't buy your Beloved Theme without it!)
NOTE: Though this post was updated for 2019, a few of the bloggers and entrepreneurs featured may have changed themes recently without my knowledge. Just take that into consideration, as you're browsing my Restored 316 examples.
Who Is The Restored 316 Beloved Theme For?
The Beloved Theme is designed for bloggers, coaches, service-based businesses, and those who sell digital and/or physical products.
It's perfect for the following niches:
Home Decor
DIY
Organization
Art
Food
Fashion
Photography
Marketing
Branding
Graphic Design
Public Speaking
Coaching
Authors
Related: Looking for a FULL REVIEW? Check out my Restored 316 WordPress Themes Review right here!
Reasons Why I Love The Restored 316 Beloved Theme!
The Beloved Theme is the best Restored 316 Theme to date!
And here's why…
It has all the features a girl (or guy) could ask for!
The scroll experience is completely up-to-date with the best-of-best website designs. It's 100% mobile responsive and gives that hidden appearance and feel, as you scroll down the page.
With the options for your front page design, you don't have to know anything about css code in order to get just the right look, depending upon if you're a blogger a traditional entrepreneur or author.
Not only that everything is fully customizable, as with all Restored 316 Themes.
My Favorite Features Of The Restored 316 Beloved Theme
Page Home Design Options: With the Beloved Theme, you get 2 choose from. One for bloggers. One for traditional entrepreneurs.
Page Template Varieties: With the Restored 316 Beloved theme, you get 4 different page templates to use: Blog Page template, Sales Page template, Category Index page template, Instagram page template (this one goes across the bottom of your blog).
Newsletter Signup Placement: With the new Beloved Theme, you have a variety of placement options for your newsletter or lead magnet signups. This means you get to take advantage of strategic placement opportunities, so you can maximize your list-building efforts.
Matching Stock Photos: If you like the stock photos pictured in the demo of Beloved Theme by Restored 316, you have the option of purchasing them. This could really help you with your Pinterest, Facebook, and Instagram Marketing strategy. Not to mention, keeping your new blog or website looking cohesive!
What Are The Features Of The Restored 316 Beloved Theme?
In this Beloved theme review, you'll get to know more about the features as detailed by Restored 316 Themes:
AUTOMATIC PLUGIN INSTALLATION
Once you install your Beloved theme, the necessary plugins will automatically install as well. All you will need to do is activate them and set them up!
TWO HOME PAGE DESIGNS
All Restored 316 themes are capable of doing so much that it's hard to display it all in a demo site! For the first time ever, they've included 2 different versions of the home page design geared towards Bloggers and then another one for a traditional website. With either of these options, you can easily swap out the widgets for your own content!
SALES PAGE TEMPLATE
For the first time ever, Beloved offers a completely designed Sales Page using the new Gutenberg block editor. Simply swap out images and text for your own and you're ready to rock and roll!
BLOG PAGE TEMPLATE
Want to customize the blog page a little to highlight featured posts? Beloved has a custom blog page template with a space to add your most important content
CUSTOM INSTAGRAM PAGE TEMPLATE
By popular request, the Beloved theme includes a custom Instagram Page Template so you can easily customize the content your Instagram followers see directly from the comfort of your WordPress dashboard!
CATEGORY INDEX PAGE TEMPLATE
Get your readers to the content they need to see by using a category index and separating posts by category. You can see a Restored 316 Beloved Theme showcase and real-life examples right here.
FLEXIBLE WIDGET SPACE
Use only the number of widgets that you need for your site with the flexible widget spaces that will automatically format for you without ever touching a line of code.
WOOCOMMERCE READY
Build your online shop beautifully with the WooCommerce plugin. WooCommerce has been styled to seamlessly coordinate with the Beloved theme.
RESPONSIVE DESIGN
Your website will fit every screen, from desktop to tablet to mobile automatically. No need for any additional plugins.
UPLOAD YOUR OWN LOGO
Easily upload your own logo to make the Beloved theme your own!
GUTENBERG OPTIMIZED
The Beloved theme is optimized and styled to work with Gutenberg.
STRATEGICALLY PLACED NEWSLETTER SIGN UPS
Gain more email subscribers with the strategically placed subscriber boxes throughout the theme.
CUSTOMIZE YOUR COLORS
Change all the colors to your hearts desire using the WordPress customizer! You are absolutely NOT limited to just the colors you see in the demo.
DOCUMENTATION & SUPPORT
All Restored 316 themes come with ample documentation to help get your new theme set up just like the demo. We also have a fantastic support team ready to help answer any questions you might have along the way.
AIRTIGHT SECURITY AND SEO
The Genesis Framework is used for all of Restored 316 themes because of its Airtight Security and SEO opportunities. You will need a copy of the Genesis Framework in order to use any of their themes.
Related: New to Genesis Framework? Get all of your questions answered right here!
STYLED FOR SEVERAL PLUGINS
Along with the other plugins mentioned, Beloved is also styled for Instagram Feed, WP Recipe Maker, and Gravity Forms.
Get the specs and learn more about the Restored 316 Beloved Theme!
Beloved Theme Examples
Look who's using The Beloved Theme on the interwebs!
Check out how each of these ladies has customized their theme to fit their business, blog, and brand! Get some inspiration and your creative juices flowing in this Restored 316 Beloved Theme showcase. . . the possibilities are endless!
Beloved Theme Showcase And Previews
Since the Restored 316 Beloved Theme just launched in March 2019, no showcase or previews are currently available. However, if you'd like to be included, once you've customized your theme to your liking, then please be sure to comment below and I'll happily feature your blog or website in my Beloved Theme review.
Thanks so much for your interest in participating in this Beloved Theme Showcase! I can't wait to see how beautiful and creative your blog turns out!
Related: Preview All The Restored 316 Themes Showcase And Examples right here!
Be sure to grab the Genesis Framework, if you don't have it already. You need BOTH to create the beautiful blog you've been dreaming of!
You can also check out more Restored 316 examples in the Beloved Theme Showcase!
Related: Is Restored 316 is right for you? Here's my FULL Restored 316 Review!
Questions About The Restored 316 Beloved Theme?
This wraps up my Beloved Theme Review! I told you everything I love about it, who I think it's best suited for, and laid out all the features.
I'd love to help you decide if the Restored 316 Beloved Theme is for you. Feel free to comment below with any questions you may have. Let's help you pick a perfect theme! You can chime in by clicking here!
Comments
comments