We're continuing with our mini series on"The Fail-Proof Beginner's Guide To Starting A Blog." Today I'm going to show you how to install WordPress in 7 minutes or less. (Yes, it's really super simple!)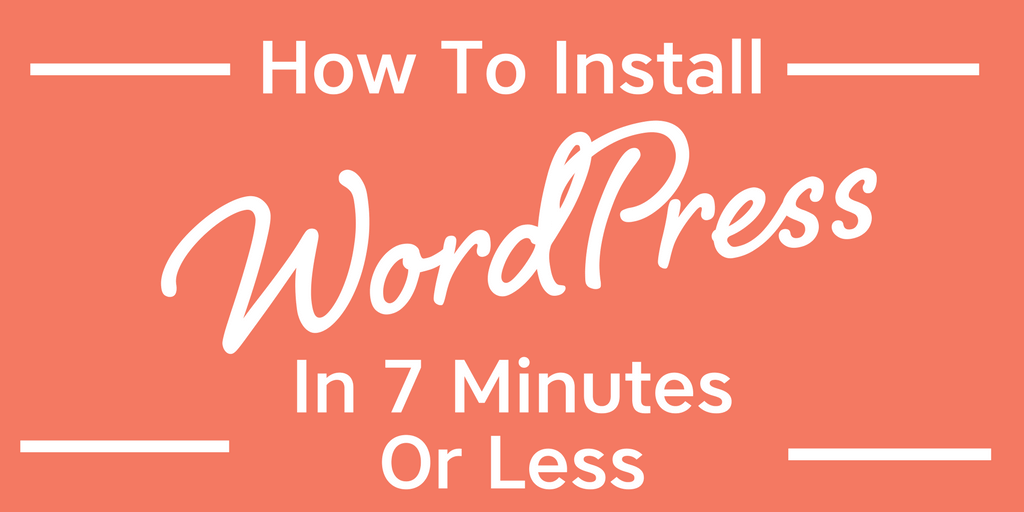 In last week's training, I helped you to pick the perfect domain name.
If you missed last week's Tech Thursday Training, you can catch up on it here: How To Pick The PERFECT Domain Name
Now that you have purchased your domain name, you need WordPress to bring your blog to the internet and give it life! Yes, there are other platforms you can use, but I only recommend WordPress. And by WordPress, I mean WordPress.org (not wordpress.com).
In today's Tech Thursday Training, I tell you why and go into more detail on the differences between the two.
I'm going to make this part of starting a blog super easy and simple for you. One way I'm doing that is by  giving you my "Must-Have" Blogging Terms Cheat Sheet. It will save you a ton of time. . . and massive headaches with all the new techy stuff you'll be learning soon. (I tell you how you can grab it right below the video.)
So no matter your skill or comfort level with technology, you can do this! Remember my promise to you…
. . . by the end of this training series, you'll have a working blog you'll be proud of! I hope you'll hold me to it!
So let's dive right into helping you install WordPress in 7 minutes or less!
Tech Tools You'll Need
WordPress.org (not dot com) there is a HUGE difference! – I show you HOW in today's training video!
Now Keep Reading!
HERE'S A QUICK PREVIEW OF TODAY'S EPISODE:
There are major and distinct differences between WordPress.org and WordPress.com. The biggest differences are:

Ownership
Customizations
Monetizing
Analytics
Costs
Plugins Make Your Blog Go Round.

 Installing WordPress is just the beginning. You want to consider using plugins. They are like apps that make your life easier. They will make your blog run more smoothly and give you the ability to do more customizations without having to know much coding. My Top 5 Plugins Are:

Akismet – Anti-spam
Jetpack – Special Analytics, metrics, and more!
Google Analytics – Distinctive good analytics and connects you to Google
W3 Total Cache – Improves website speed + reduces downtimes
Yoast SEO – Improves SEO + helps guide you to write better content
Grab your journal and pen. . . Get ready to install WordPress in 7 minutes or less! 
Watch Over My Shoulder In Today's Tech Thursday Training! 

Download Your FREE Cheat Sheet
To help you get started with building your blog, I created a cheat sheet of the most frequently used blogging terms. I remember when I first started out – blogging was like learning a new language. So I'm making it easier for you! I want you to make this your go-to resource, as you're building your blog!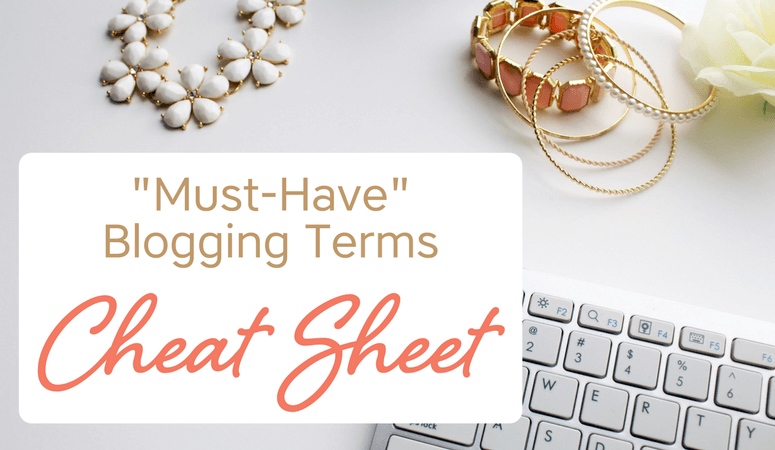 Download the Cheat Sheet. You'll get the cheat sheet, access to my Business Vault, plus advanced notice of all the exciting happenings around here!
Print. Any paper will do. I recommend either laminating it or using a sheet protector. (Yes, you're gonna get a lot of frequent flyer miles with this!)
Keep it in your Personal Learning Library to have it easily accessible, as you're building your blog!
Grab Your Own Copy of My "Must-Have" Blogging Terms Cheat Sheet
(Don't get caught blogging without it!)
[clickToTweet tweet="Installing WordPress is THAT easy! (7 minutes or less #promise)" quote="Installing WordPress is THAT easy! (7 minutes or less) #promise"]
Want More?
See! I told you installing WordPress on your website would be super simple and super easy!
Be sure to check out the next episode in this series! I'll show you how to pick the perfect WordPress theme. Believe it or not, you can have a beautiful, feminine blog without being a web designer (or hiring one!)
Let's Chat!
Was installing WordPress as difficult as you thought? If it was, I'd love to know what your challenges were, so I can help you troubleshoot. 
I'd love to hear your thoughts! You can chime in, by
clicking here
! 🙂
Links And References Mentioned In This Episode:
P31 TV | Tech Thursday Training – How To Pick The PERFECT Domain Name
Host Duplex – Website domains and hosting (You need this to purchases your domain name and to host your website.)
Additional Plugins to install on your blog:
Header & Footer – Allows you to add special coding to your site in the header and footer
Social Warfare – Helps to drive traffic, calculate metrics, and social shares
WP Hide Post – Control the visibility of your posts and pages
Facebook Comments – Let's people comment on your blog via their Facebook Page
Comments
comments