Knowing how to pray scripture helps get our prayers answered. Here are reasons to pray the Word, how to pray scripture & examples of scripture-based prayers. Praying scripture is an effective spiritual warfare tactic for novice and experienced prayer warriors alike!
It's a well-known phrase in Christian circles "to pray scripture," but what does that really mean? And how do we pray God's Word effectively and with integrity so we can get our prayers answered?
If you're new to the idea of praying scripture back to God, then I'm sure you have a lot of questions (and are very eager) to try this technique. You may have even asked someone, "teach me how to pray the Word of God." They likely told you it was simple…and it is actually!
In the first day of our Praying Woman Bible Study, we dig into and learn in-depth about the prayer strategy of praying scripture. It is POWERFUL!
So let's start from the very beginning and lay out a nice foundation and formula for you to follow. I want you to be able to harness the power of praying God's Word in your life and for the benefit of others, too!
Let's get started learning about how to pray scripture!
Quick Links For Information In This Post
Reasons To Pray Scripture
So let's start with why we should pray scripture. There are likely a million reasons why you should pray scripture, but here are my Top 5 Reasons Why You Should Pray God's Word:
#1 – Jesus Did
Jesus prayed scripture during two notable times.
The first one we can find Jesus lamenting over Jerusalem.
To lament means – a passionate expression of grief or sorrow, to cry out, to wail. As a Christian, our lamentations (or crying out and wailing) to the Lord about painful, grievous situations are also referred to as "Prayers Out of Pain." In essence, these are sorrowful prayers that are triggered out of some kind of suffering.
Jesus prays the Word, as He is lamenting over Jerusalem in Matthew 23:37-39 and Luke 13:34-35. The scriptures Jesus is praying are all referenced in Psalm 57:1; Exodus 19:4; Psalm 61:4; Psalm 118:6.
37 "Jerusalem, Jerusalem, you who kill the prophets and stone those sent to you,how often I have longed to gather your children together, as a hen gathers her chicks under her wings, and you were not willing. 38 Look, your house is left to you desolate. 39 For I tell you, you will not see me again until you say, 'Blessed is he who comes in the name of the Lord.' "
Jesus is crying out for Jerusalem to accept Him as the Messiah and Savior of the World. He is also praying in a prophetic nature, in that he speaks of the destruction of the Temple, which happens 40 years after His death and resurrection. In this prayer, he prays that redemption will not come until He is accepted as the Messiah.
The second one we can find Jesus lamenting over His own death on the cross.
Jesus prays scripture, as he is on the cross and cries out to God in anguish over his fate.
He says in Matthew 27:46:
46 About three in the afternoon Jesus cried out in a loud voice, "Eli, Eli, lemasabachthani?" (which means "My God, my God, why have you forsaken me?").
Also, in Mark 15:34:
34 And at three in the afternoon Jesus cried out in a loud voice, "Eloi, Eloi, lema sabachthani?" (which means "My God, my God, why have you forsaken me?").
Both of these lamentations of Jesus are Him praying the Word of Psalm 22:1.
If Jesus prayed scripture, then so should we. He is our prime example of Kingdom living here on earth.
#2 – God Is Bound By His Word
One key element to understand about praying scripture or praying, in general, is that God has established an order in which He's chosen to get things down in the earth realm.
He's given humans authority here. And he fully expects us, as Christians, to exercise our authority by doing His Will as a co-laborer with Him.
How do we do that? Through prayer, our words, actions, and deeds.
What kind of prayer, words, actions, and deeds? The kind that lines up with His Word aka the Bible.
We find clear confirmation of this in Isaiah 55:11
11 So shall My word be that goes forth from My mouth; It shall not return to Me void, But it shall accomplish what I please, And it shall prosper in the thing for which I sent it.
By praying the Word, we are in essence repeating God's truth and promises about any situation. We are "reminding" God about what He's already written in His Word. His Word will not return to him void (incomplete, unfulfilled) but it will accomplish whatever he pleases, desires, or wills. AND it will prosper wherever He sends it.
That should be a confidence boost to boldly pray the scriptures!
*NOTE: We aren't to use scripture in an attempt to manipulate God, get our own way, or take advantage of the Word. This is abusing God's Word. At the end of the day even when we pray scripture, it still must be in alignment with God's Will for that situation, which means we need to first seek God and ask Him what is His Will for the situation we're praying scripture about.
#3 – His Word Is Truth
When we pray the Word we are praying the Truth.
In John 17:17 we are told
17 Sanctify them by Your truth. Your word is truth.
God's Word is truth and it is THE truth.
When we pray scripture we are simply communicating the truth about a situation and we have God's Word to back us up. And remember, God responds and acknowledges His Word. He's bound to answer us, even if it is a "Yes, No, or Maybe."
#4 – Helps Us To Maintain Our Focus On God
It's so easy to get caught up in praying vain or selfish prayers and worse yet praying prayers that don't align with God's Will for our lives or the situations we're praying about. When we pray scripture we are reading and praying the Word of God. The Word encourages, equips, convicts, heals, and points us to the Cross.
Praying the Word keeps our heart focused on the One who matters most — God.
#5 – Helps Us Better Understand Scripture And Apply It To Our Lives
Sometimes the Word of God, the people of the Bible, and the times in which the Bible was written as seem afar off and unrelatable. However, when we pray scripture we are able to bring the Word of God into our lives and give it 21st Century meaning.
We are also able to have a greater understanding of the Bible because we now have a situation in our own lives that relates to events from the Bible. When we can relate to something, it has a new, profound sense of meaning to us.
Praying the Scriptures, helps us understand and relate to the Bible, which further enables us to apply the Word of God to our lives.
Related: Join Our Praying Woman Bible Study! And learn how to pray prayers that allow you to touch the heart of God and the heart of Heaven, pierce the enemy's darkness, see miraculous results, and get results!
The Power of Praying Scripture
Praying scripture is POWERFUL because we can come boldly and fully prepared to tackle any situation in prayer to God.
When we pray the Word of God we are developing and enhancing our own prayer language by simply using words already given to us in the Bible. You can even think of praying scripture as God giving you specific prayer prompts for every situation you'll ever face or need to pray about in life.
We don't have to make anything up, be an eloquent speaker, or an infamous prayer warrior — all we need is to apply God's word to our lives and pray the scriptures!
Praying God's Word is also powerful in that it aligns our prayers, thoughts, and perspective with His. It causes us to focus on the truth of His Word and it gives us a foundation of truth for our prayers.
We can use God's Word to shape our prayers and animate the desire of our hearts and longing of our souls by simply praying Scripture. (And He responds!)
How To Pray Scripture Back To God
Let's talk about how to pray scripture back to God. It's really quite simple!
#1 – Find A Passage of Scripture For That Situation
If you're not sure what scripture to use, I highly recommend using the website openbible.info. All you have to do is type any subject you want to pray about (or study more about) and it will give you a laundry list of scriptures that relate to that subject matter.
#2 – Write Down The Scripture
So now that you've found a passage of scripture to pray, you'll want to write it down and keep it in a safe place. You want it to be easily accessible.
I recommend using index cards to write down the passage of scripture. They are quick and easy, plus they are durable. But your favorite journal will do!
By writing them down the scripture on index cars, you can carry it around with you wherever you go. You will usually find scripture-filled index cards in my wallet, on my vanity mirror, on my car dashboard, above my kitchen sink, behind my front door, and on the walls of my home.
I do this to keep the scripture in front of me at all times. It helps keep me focused on praying and to be sure I'm praying the Bible.
#3 – Pray Scripture Over The Situation
At this point, you're ready to pray scripture. Here's how you do this!
Let's say you wanted to pray the Word about healing and you found Psalm 41:3:
3 The Lord sustains him on his sickbed; in his illness you restore him to full health.
Here's how you pray this scripture over that situation:
Lord thank you for sustaining me on my sickbed. I am confident and ask that even in illness, you will restore me to full health.
See! It's really simple to pray scripture over your life!
Tips For Praying Scripture
Here are a few quick tips for praying scripture over your life.
#1 – Ask God His Will For The Situation
Oftentimes we jump right into prayer, without consulting God what His Will is for a person or situation. Take a few moments to ask God what he wants to happen and then avail and commit yourself to pray about it.
#2 – Find Scripture That Fits Your Situation
This is really the big key here. You want to find applicable scriptures to pray about your situation.
It can be one scripture or many different scriptures. We see that Jesus did this in one of His prayers I mentioned above.
Just be sure you don't have a scripture about healing when you want to pray about your child's safety.
Context matters, too. So be sure you understand the context of the scripture you're praying. I recommend using the Psalms and Proverbs to pray the Word. They are pretty universal in this aspect.
#3 – Keep The Scripture Visible
Like I mentioned above, keep the scriptures with you at all times if you can. By writing them down on index cards, they are readily available for you to pray about at a moment's notice. Remember…Accessibility is KEY!
I recommend having scriptures on your vanity, your car dashboard, in your purse, above your kitchen sink, behind your front door, and wherever you want to have frequent reminds to pray the Word.
#4 – Pray Scriptures Often
I think we forget to pray the Word often. We oftentimes think we can just pray one time and then BAM! The problem is solved. That isn't always the case.
We are told in 1 Thessalonians 5:17 to pray without ceasing.
We are also told in Phillippians 4:6-7 to come to God with our prayers and supplications.
Supplication is the action of asking or begging for something earnestly or humbly…which means it's a prayer that's done over and over again until we get our desired result.
#5 – Let Praying Scripture Develop Your Prayer Language
So many times I just didn't have the words to pray about a situation. (And I'm a WordSmith. I LOVE using words!)
Either my mind wasn't focused. My heart wasn't there or too overwhelmed. Or I just was in too much anguish or flabbergasted to come up with the right words to use.
But let me tell you! Digging through my Bible and praying the scriptures has never left me with a loss of words to pray about anything!
God's Word will literally shape your prayers and give you prayer prompts you could've never conceived all on your own!
#6 – Boldly and Fervently Pray The Word
Here's the thing when you pray the Word it is now the foundation of your prayers. You aren't relying upon your words or understanding of the situation. You are relying upon the infallible Word of God to not return void, but to accomplish whatever it is God pleases.
And because of this foundation, you can pray scripture BOLDLY AND FEVERENTLY!
To pray fervently means you re praying with enthusiasm and passion. There's nothing like praying scripture to make you enthusiastic and passionate about the situation or person you are praying about!
Praying Scripture Examples
Below are some examples of scripture-based prayers. This is to show you how you can pray scripture over different situations you (or others) may face in life:
Praying Scripture For Salvation
Scripture: 1 Timothy 2:4 – 3 For this is good and acceptable in the sight of God our Savior, 4 who desires all men to be saved and to come to the knowledge of the truth.
Prayer: Lord, I thank you that you consider it good and acceptable in your sight that all men are saved and come to the full knowledge of the truth. I ask that __________ (insert name) comes to the full knowledge of truth and accepts Jesus Christ as Lord and savior of their life.
Praying Scripture For Marriage
Scripture: Ecclesiastes 4:12 – 12 And though a man might prevail against one who is alone, two will withstand him—a threefold cord is not quickly broken.
Prayer: Lord, thank you for my husband and my marriage. Please keep us as a threefold cord that isn't easily broken by trials, circumstances, or challenging seasons. I am confident and stand firm in the fact that you are with us and will never leave us nor forsake us.
Praying Scripture For Children
Scripture: Psalm 127:3-5
3 Behold, children are a heritage from the Lord,
The fruit of the womb is a reward.
4 Like arrows in the hand of a warrior,
So are the children of one's youth.
5 Happy is the man who has his quiver full of them;
They shall not be ashamed,
But shall speak with their enemies in the gate.
Prayer: Lord, thank you for the heritage and inheritance of my children. They are my reward and the fruit of my womb. Help me to raise them to be mighty arrows and are ready to be used in the hand of a warrior. We are happy with the quiver of our children – no matter how. Our children will not be ashamed, but instead, they will rise up and speak with our enemies in the gate and overcome!
Praying Scripture For Finances
Scripture: Philippians 4:19 – 19 And my God shall supply all your need according to His riches in glory by Christ Jesus.
Prayer: Lord, thank you for supplying all __________ (insert name)'s needs according to your riches in glory by Christ Jesus. I am confident every need will be met and they will lack no good thing.
Praying Scripture For Peace
Scripture: Colossians 3:15 – 15 And let the peace (soul harmony which comes) from Christ rule (act as umpire continually) in your hearts [deciding and settling with finality all questions that arise in your minds, in that peaceful state] to which as [members of Christ's] one body you were also called [to live]. And be thankful (appreciative), [giving praise to God always].
Prayer: Lord, please allow your peace to rule in my heart, like harmony in my soul that comes from Christ. Let it rule like an umpire, deciding all matters in my mind with finality. This is how You've called us to live and how I desire to live. Also, help me to be appreciative and thankful — I always want to give you praise!
Praying Scripture For Healing
Scripture: Jeremiah 33:6 – 6 Behold, I will bring it health and healing; I will heal them and reveal to them the abundance of peace and truth.
Prayer: Lord, thank you for bringing health and healing to __________ (insert name)'s life. I am confident you will heal them and reveal to them your abundance of peace and truth.
Praying Scripture For Relationships
Scripture: 1 Peter 3:8-9 – 8 Finally, all of you be of one mind, having compassion for one another; love as brothers, be tenderhearted, be courteous; 9 not returning evil for evil or reviling for reviling, but on the contrary blessing, knowing that you were called to this, that you may inherit a blessing.
Prayer: Lord, I ask that __________ (insert names) are of one mind, have compassion for one another, love as brothers and sisters, be tenderhearted, and courteous. That they not return evil for evil or reviling for reviling, but instead they bless one another because they are called to this. And they desire to inherit a blessing!
Praying Scripture For Direction And Guidance
Scripture: Psalm 32:8 –8 I will instruct you and teach you in the way you should go;
I will guide you with My eye.
Prayer: Lord, I ask you to instruct me and teach me the way I should go. Please guide me with your eye.
This is how you pray scripture for all the many different areas of your life!
If you enjoyed this article on how to pray the Word effectively over your life, could you please pin this on Pinterest to your Prayer or Christian Living Board?
Let your followers + friends know you think this is something they should check out! I'd SO appreciate it!
📌 (Click HERE or the image below to pin on Pinterest)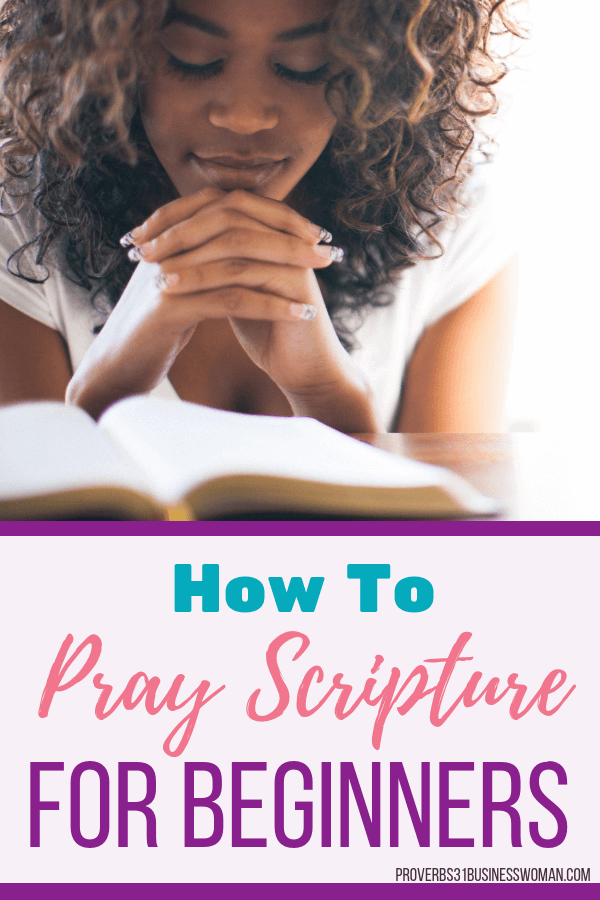 We had a WONDERFUL chat on Facebook about praying scripture…join us!
Is God Calling You To Develop A Lifestyle of Prayer?
Do you want to grow more fully, as a Disciple of Christ?
Then join us for an 8-Week Bible Study on this essential element of discipleship – Prayer!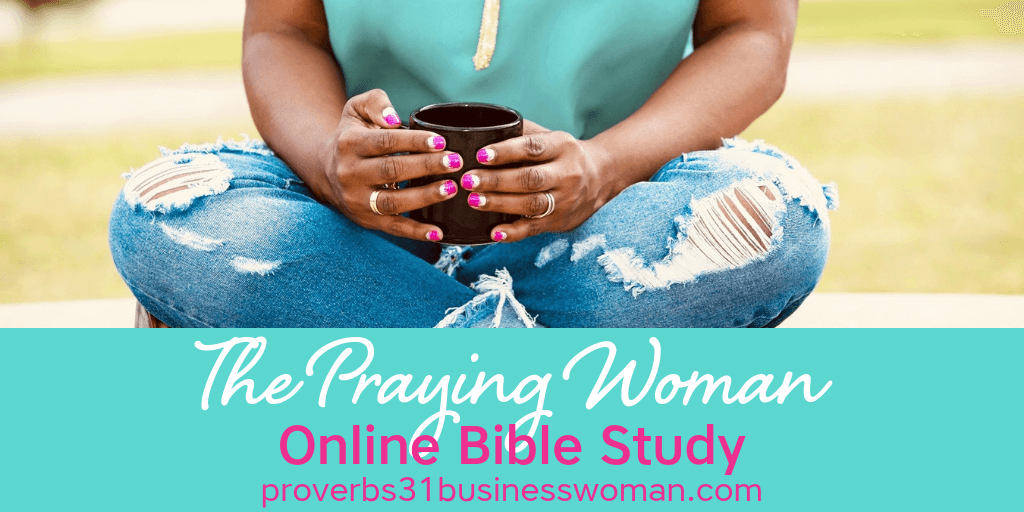 Let's Start Your Discipleship Journey,
As A Praying Woman TODAY!
When you join our FREE Online Bible Study, you'll be given:
*NOTE: The only thing we don't provide for free is a copy of the companion workbook! (You may purchase it below.)
Join us, as we study how to pray effectively, so we can get answers, have spiritual breakthroughs, and walk in the VICTORY Jesus promised!
Study Along With Us!
Invite Your SisterFriends, Bible Study Groups, Or Sunday School Class!
Comments
comments