As promised, I'm dedicating the entire month of April to teaching you how you can grow a powerful, influential business and brand online, using this ONE PLATFORM – Facebook Today, we're going to talk about creating culture, community, and engagement on your Facebook Page!
These three elements are KEY to creating a powerful and profitable business on the Facebook platform! They will help you beat the Facebook algorithm, get your posts seen more by your fans and their friends, and eventually get more sales on Facebook. But how do you do this? (And what does all of this mean?)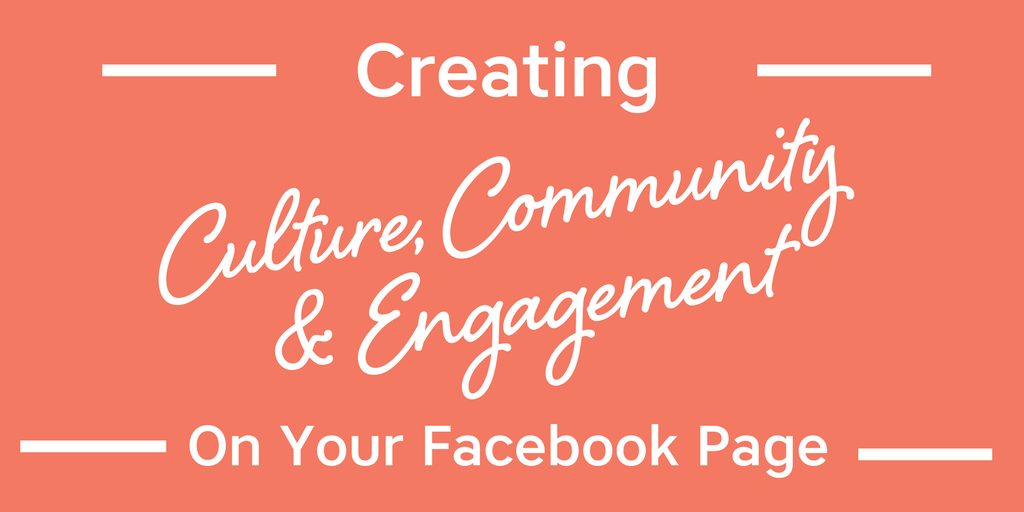 Here's a quick preview of today's episode:
What exactly is culture? Culture  encompasses everything you are from your beliefs to your likes, dislikes, favorite foods, hobbies, etc. Bottom line, culture is a way of life. It's also how you "do life." You are essentially creating a "way of life" on your Facebook page and doing life with your fans.
The kind of community your create on Facebook is just as important, if not more important, as being on Facebook all together. Your community will speak the language of your brand, they will grow with you, and most importantly they will be your business' mouthpiece on social media. That's a GOOD THING!
Do you know how to create engagement on your Facebook page? If not, then today's episode is just for you! The "talk back factor" is a powerful piece to creating engagement. Once your fans start talking back to you, then you know you've hit a sweet pot with them!
Engagement is crucial if you want to beat the Facebook Algorithm and get incredible results with your Facebook ads. Grab your journal and pen…Let's learn more about creating culture, community, and engagement on your Facebook page!
Tune into episode #3 of Silk Over Steel TV!
I want you to really dig in and hone in on creating culture, community and engagement on your Facebook page this week.
Carefully answer these questions in your journal:
Who am I? What is my culture?
What are my beliefs and things I enjoy eating, doing, reading, wearing, etc.?
What kind of community do I want to create around my business and brand? What does that look like? (Paint a picture with words)
Links and references mentioned in this episode:
Facebook Marketing Made Simple – Grow your audience on Facebook with this class! I show you how to get your first 1,000 Facebook fans of highly targeted, ideal clients, who find you irresistible and keep coming back for more of what you have to offer. (Yes! They'll want to buy from you, too!)
Check out the other episodes in this series!
SOS TV Episode #2 – Yo Baby, Yo Baby YO! How To Get More People To Buy From You On Facebook
SOS TV Episode #4 – Debunking Facebook Myths
SOS TV Episode #5 – The #1 Ad You Should Run On Facebook 100% Of The Time
Comments
comments